Film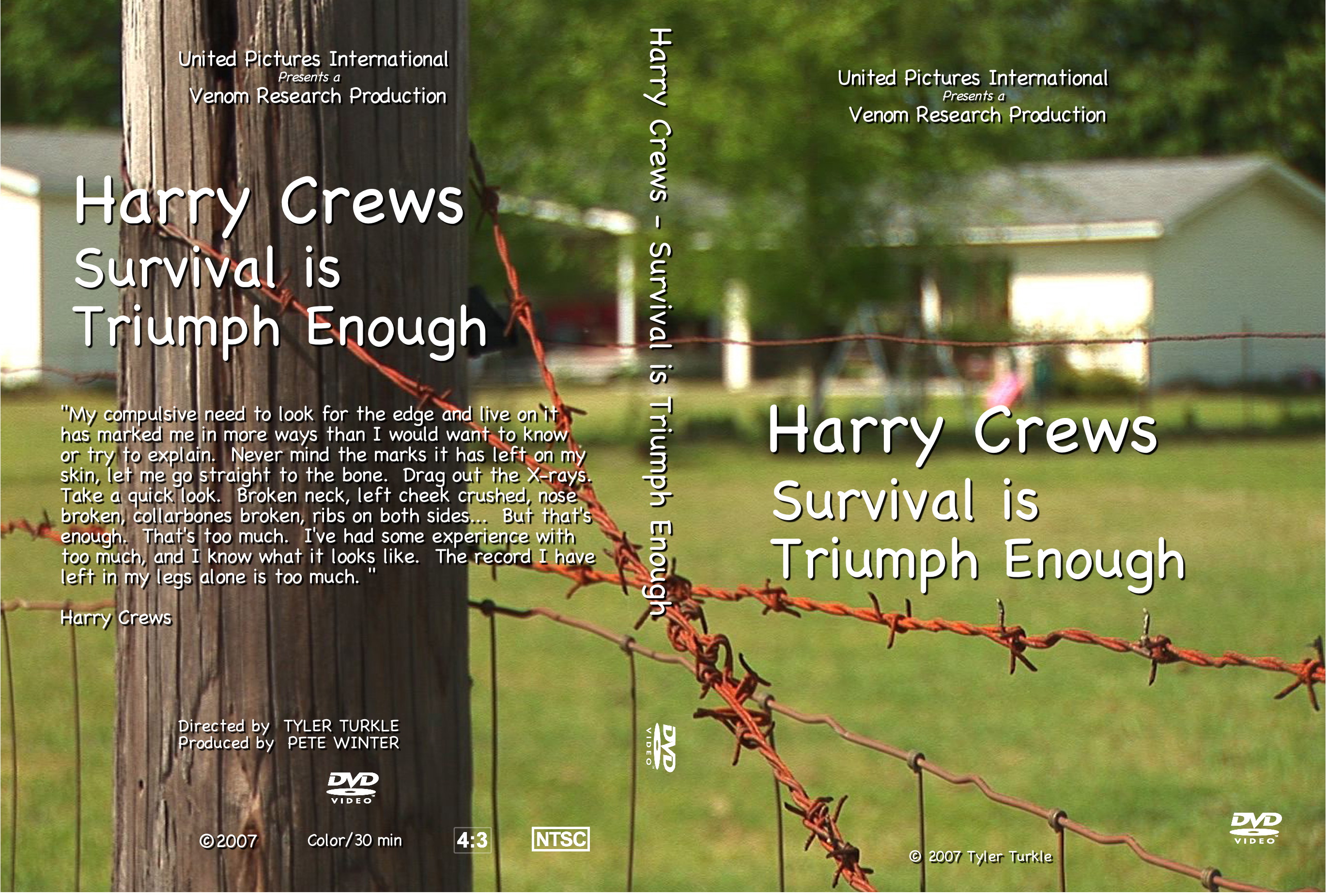 Harry Crews DVD is available online at:
Harry Crews – Survival is Triumph Enough
This powerful film documents the hardships, tragedy and loss suffered by the prolific Southern writer and novelist Harry Crews. Interviewed by artist and filmmaker Tyler Turkle, Crews' state of mind is revealed in a rapid-fire and startling narrative of emotional and physical pain and suffering. From his home in Gainesville, Florida, Crews provides details of his near fatal childhood coupled with stark tales of his adult alcoholism and drug abuse and the tragic, accidental drowning of his first born son. Throughout, Crews remains as tough as nails in his delivery of personal experiences and exploits which he sums up by quoting Mark Twain: "I have reached the age of seventy by strictly following a regimen that would have killed anybody else." Read more about Harry Crews at this New Your Times Review: "Harry Crews's Sense of Menace in Writing and in Life"
Check out the Harry Crews biography: Blood, Bone and Marrow, written by Ted Geltner.
---
Tyler Turkle: Films and Videos 1973 – 2012
A collection of 39 years of Tyler Turkle's films and videos
If you are a student or a professor:
3 videos in this collection
Tyler Turkle: Films and Videos (1973 – 2012)
This three-volume boxed set of DVDs contains 39 years of Turkle's films and videos. It is currently available at Canyon Cinema.
Volume One: 16mm films (1973 – 1981)
Spider 71-50 (Fandor) Strange assembly of stark and nearly surreal images tell the tale of life and death as seen through the eyes of an observer and eventually the subject himself – a blind man in a wheelchair. The film relies on a number of cinematic devices to bring into focus the trials and tribulations of being out on the streets, alone and handicapped. The result is a striking visual narrative of how people view those among us who are "different." We believe we can see them but they can't see us. Or can they? 1973, 16mm, 5m, b&w
Smokey Wears Pantyhose (Fandor) Fast -paced film works its way through American culture in a crazy quilt of images and wild sounds including truckers' CB radio banter and arcade machine gun fire. A theme of give and take is established as a young man tries to get rid of a coconut head, visits a carnival peep show, dances and twirls batons with a dog, and finally hops a truck to somewhere. 1974, 9m
Walk That Dog  (Fandor) (YouTube Trailer) A chance meeting between the artist, ten young boys, and a yo-yo champion in a drugstore parking lot provides the substance for this rambling and anarchic filmed interview that at once parodies "man on the street" television interviews while introducing and sustaining an unusual but deliberate verite technique on its own. 1974, 16mm, b&w/so, 16m
Observeillance (Fandor) A lyrical tour guide takes the viewer on a trip down the Wakulla River in North Florida. Although the camera remains relentlessly fixed on him, his vivid, near-musical descriptions of Southern flora, fauna, and wildlife gives a better view of things than total visual mobility could ever allow. 1975, 16mm, b&w/so, 4m
Cut (Fandor) A peculiar homage to the things that go wrong, this film is purportedly about rugby. The self-explanatory title for this jumpy "documentary" is less concerned with the filmed subject (the game, the field, the players) than a comic editing style and the complete acknowledgement given to the technical aspect of gathering and manipulating raw footage. 1976, 16mm, b&w/so, 4m
A Quiet Afternoon with Strangers "A 'silent' interview, QUIET AFTERNOON is the most strange and moving of Turkle's films, documenting the year-round garage sale of an eccentric, elderly Ohio couple. The omission of sound and the focused, grainy attention of their legacy of bric-a-brac, discarded appliances and collected curiosities adds greatly to the film's ultimate emotional effect." – Frank Young, Florida Flambeau. 1977, 16mm, b&w/si, 9m
Lincoln Logs for Jesus (Fandor) "Playing on all of Tyler Turkle's previous interview films, accelerating and violating their stylistics, LINCOLN LOGS FOR JESUS is a nearly Cubist look at the world. A fast-paced consumer jaunt, almost ritual in nature, winds its way through flashes, repetition, swift cuts, and the reverse switch for an edgy, jarring continuity." – Steve Dollar, Media X. 1978, 16mm, b&w/so, 5m
Excess, Black Noise, and Fast Moving Pictures (Fandor) Seventy seconds of furiously energetic filmmaking in which all of the possible pauses in visual and aural activity have been removed. What is left when all of the fat has been trimmed? Monkeys with diamond studded collars, killer fish, and a parade of incongruous images, statements, questions, and answers guided to an exciting climax by a storefront dummy who takes over the interviewing chores midway through the film. "The central idea of Turkle's interview films involves getting around the images that block perception. The film tricks the images or somehow pushes them toward a deliberate self-consciousness, while simultaneously encouraging their chance or found condition. The processes of chance and deliberation combine to produce works of gentle beauty and profound, acerbic wit. Altogether the effects of these films is that of sentiment moved to the power of scrutiny." – Richard Milazzo, Artmode. 1981, 16mm, color/so, 1m
Volume Two: Videos (1994 – 2003)
The Last Days of Eddie Marsicano Stricken with a rare and deadly type of cancer, writer, teacher, and humorist Edward Marsicano was told he didn't have long to live. This fast-paced and upbeat tape documents Marsicano's final comments, anecdotes, barbs, and opinions about himself and the world he has known. "Ed holds forth on everything from microwaved bacon to literature to Richard Nixon to Elvis to those fuzzy covers people put on the back part of their toilets. These are moments of hilarious gallows humour! This definitely isn't your run-of-the-mill, sentimentalized, guilt-inducing cancer flick." – Mark Hinson, Tallahassee Democrat. In one of Marsicano's last telephone conversations he sums up his attitude toward his own death by telling a friend…. "When God calls I hope not to be here!" 1994, color/so, 30m
Seminoles, Alligators, and Football Players (Fandor)  (YouTube Trailer) Born and bred in the deep South, the football rivalry between Florida State University (Seminoles) and the University of Florida (Gators) has roots so old it is hard to tell exactly when and where it began. The great history of that rivalry is now revealed and elaborated on as fans and supporters of Florida State University express themselves in a wild and vivid celebration of school spirit. This thirty minute video is a kitchen sink of satire, parody and social commentary packed with fast-moving and informative interviews, t.v. preaching, alligator wrestling, stuffed animals, fight songs, blood hounds, and chitlin' eating. 2003, 30m
Volume Three: Videos (2006 – 2008)