February 5th, 2017
The Portrait of the Artist Curated by Christian Kravagna
THE PLASTIC PARADIGM
CHANGE NEVER SLEEPS
Tyler Turkle – 1990
            Contemporary life in America is not so much a revolution of industry, electronics or technology as it is a confusing triumph of plastics.  Spawned by the chemical age, plastics began their ascendancy at the turn of the twentieth century and have since become ubiquitous.  The present plastic condition is at once troubling and magnificent.  At first observation, this state, the omnipresence of plastics, can readily appear as dangerous as an invasion of body snatchers coolly biding their time as they efficiently and organically mimic everything and everybody to eventually take control of the entire planet.  Conversely, another analysis may reveal nothing short of a miracle material.  The miracle being that plastic can be whatever we want it to be.  It can be synthesized and polymerized and even further plasticized to act like fiber, metal, rubber, stone or glass.  Ultimately, it can be made to be just itself, expressing qualities of resiliency, flexibility, durability, strength and longevity.
            The arrogance of plastic.  Deformable and reformable, plastic shows itself first one way and then another.  Appears then disappears.  Sometimes very easy to recognize but always difficult to define (and no one but a chemist knows the slightest thing about it, although nearly everyone knows plastic can keep a can of beer cold).  Difficult because we don't know what we're looking at, where it comes from or how it is made.  Our ignorance of plastic makes it appear to be benign.  A material that deep down only wants to be used in the service of good(ness).  Not much soul but with a lot of spunk, plastics are designed by chemists to act according to need.  The molecules of plastics are composed principally of carbon, hydrogen, oxygen and nitrogen – key constituents of life on earth.  These elements are derived from petroleum, coal, salt, air and water.  The properties of plastics and how they behave depend on the size and shape of the molecules of which they are composed.  They can be manufactured to look like anything and to act like anything.  They can be your new wig or your next heart.
            Infinitely formable, plastic is as much an idea as it is a substance.  It appears powerful enough to mimic the workings of the human mind.  Expanded, like the imagination, with no ambit whatsoever.  The yield seems greater than its primary matter.  A monomer becomes a polymer – structures with no end – like thought, continuous chains of stuff that end up on your floor or in your bedroom or on your head.
            These characteristics of plastics accompanied by their seemingly infinite applications have caused sweeping collective doubt.  In the early years, plastics disguised themselves as existing materials, hoping no one would notice.  Later, when everyone did notice, they mimicked less and strutted more.  A sort of "I may be different but I'm just as good" routine.  But it was too late.  Fun was made of the "cheap" imitator.  Anyone speaking in favor of plastics over better materials such as wood, shell or cotton was chastised and made to feel inferior for accepting an unworthy substitute.  Doubt crept into every choice, every use, every purchase, and every person.  Is it real or is it plastic?  A prohibition ensued.  Stones were thrown.  Plastics didn't struggle, they changed – and reappeared strong, proud, different and better than what they had previously imitated.  Artificial no longer, plastics became real.  Genuine plastic.  Consequently, from this evolution more doubt sprung.  The question of old was modified to: "Are you sure it's real plastic?"  No one would ever again consider owning a beer cooler made of wood when they could have a real plastic one.  And so, every household in the nation contains hundreds, if not thousands, of these authentic plastic ideas.  Moreover, plastics are so mightily popular they can be found outside the home in lakes, rivers, oceans, forests, farmlands and space.
            The dynamics of this plastics proliferation reflects an applied theory: most people would prefer a life of change if it were accompanied by predictable results.  A truly plastic world.  That is to say, we would be satisfied with a changing world if we knew ahead of time what the outcome would be.  Deformable and reformable without rupture.  Fear of the unpredictable future turns us against change.  Change doesn't turn us against change.  The new plastic outlook, with its countless plastic moments, encourages change.  Plastic surgery, PLASTIC WOOD, plastic water, plastic cosmos.  Infinitely capable of continuous and permanent change: Plastometry.  We trust the plastic age.  The new moldable universe.  There is an implied agreement that plastic will understand, duplicate and control the world.  Synthetic synthesis or whatever it wants to be, moment by plastic moment.
PLASTIC HISTORY: Independent and Experimental Filmmaking in the Age of Acetate, A Program of Films Selected by Tyler Turkle — Canyon Cinema Salon, 11/24/2014
Please join Canyon Cinema on the evening of November 24th, 2014 at New Nothing Cinema for the next installment of our Fall 2014 Salon series. This month, artist and filmmaker Tyler Turkle will present a program of 16mm films from the Canyon Cinema catalog made in the 60s, 70s, and 80s. These films, along with being representative of the historical moment in which they were produced, are also important works in the development of Turkle's art. Regarding this program, Turkle writes:
The films chosen represent a variety of ideas and take on numerous forms, from a home movie to a candid interview, to a personal portrait to the amusing street actions of a merry band of pranksters. However, all of these films stand as a partial historical record of the imaginative and adventurous use of the most "plastic" medium of them all.
Although there are many, many more examples to choose from, these are a few of the films that informed my own art and filmmaking in the late 1960s and early 1970s. I saw most of them as a student at Kent State University, taking classes with legendary filmmaker, Richard Myers. Later in the 70s and 80s, while teaching at Florida State University, I screened these and many others from the Canyon catalog to film classes and through a weekly experimental film and video program known as MEDIA X. 
The Canyon Cinema Salon Series is a FREE event hosted at New Nothing Cinema (located at 16 Sherman St, off Folsom between 6th and 7th in SOMA).
7:00pm- Reception
7:30pm* – Screening and discussion.
*Note: Street entrance locked at 7:30 – please arrive on time.
Program Notes
Kustom Kar Kommandos (1965) | Kenneth Anger | 3.5 minutes | Color | Sound
"KUSTOM KAR KOMMANDOS was originally to be an eight-part, 30-minute film which Anger describes as 'an oneiric vision of a contemporary American (and specifically Californian) teenage phenomenon, the world of hot-rod and customized cars.' Anger made the episode presently shown as KUSTOM KAR KOMMANDOS to raise funds to finish the film, but was unable to do so and the project was abandoned." – Marilyn Singer, The American Federation of Arts
Oh Dem Watermelons (1965) | Robert Nelson | 11 minutes | Color | Sound
"Original idea and inspiration from La Course aux Potirons (1907) by Louis Feuillade." –   RAN
"A major American underground classic. This film originally served as a theatrical intermission in the San Francisco Mime Troupe's social-political satire "A Minstrel Show, or Civil Rights in a Cracker Barrel", but it quickly took on a life of its own. Oh Dem Watermelons takes hilarious and absurd jabs at the watermelon as a tired Black stereotype, using a wild mix of collage, animation, and irreverence, set to a propulsive soundtrack by Steve Reich." – Mark Toscano
Doggie Diner and Return of Doggie Diner (1969) | Leonard Lipton | 7 minutes | Color | Sound
"DOGGIE DINER and RETURN OF DOGGIE DINER satirizes and excels in formal, conceptual filmmaking and Peter Hutton's July '71 in San Francisco conveys sixties' ideals through a series of beautiful, haunting tableaux."—Steve Anker
The prospective renter needs no better recommendation than this: Peter Kubelka purchased a print for the Austrian Film Archive. Rent it while it's hot.
My Name is Oona (1969) | Gunvor Nelson | 10 minutes | B&W | Sound
"But the revelation of the program is Gunvor Nelson, true poetess of the visual cinema. MY NAME IS OONA captures in haunting, intensely lyrical images fragments of the coming to consciousness of a child girl. A series of extremely brief flashes of her moving through night-lit space or woods in sensuous negative, separated by rapid fades into blackness, burst upon us like a fairy-tale princess, with a late sun only partially outlining her and the animal in silvery filigree against the encroaching darkness; one of the most perfect recent examples of poetic cinema. Throughout the entire film, the girl, compulsively and as if in awe, repeats her name, until it becomes a magic incantation of self-realization." – Amos Vogel, The Village Voice
"It is one of the first filmic masterpieces of the new wave films." – Larry Jordan
Visit to Indiana (1970) | Curt McDowell | 10 minutes | Color | Sound
"… it is not only very funny, but perfectly designed to satirize the Midwestern life style. The film may be no more than a sound track, but even if you listen with your eyes closed, you should enjoy it." – LA Free Press
"A powerful, controversial film for discussion in senior high school language arts and social studies classes and college courses in sociology and psychology. Also for public library film programs and loan to groups interested in films heavy with social comment. Ages 16 to adult." – The Booklist, American Library Association
Akbar (1970) | Richard Myers | 16 minutes | Color | Sound
A conversation with a friend – Ahmed Akbar. A short interview-type film portrait with Akbar, a black filmmaker and former student of [Myers'] at Kent State. AKBAR expresses an unusual and exciting view of himself/blacks in America/and such varied subjects as "This moon race Shit!" A friendly, lively, exciting portrait of a very extraordinary person from Akron, Ohio.
Songs for Swinging Larvae (1981) | Ralph Records, aka Cryptic Corporation | 6 minutes | Color | Sound
A child's perverse fantasy about escaping from his mother becomes reality and then a nightmare in this brilliantly acted and staged film from the creator of HELLO SKINNY and The Residents' ONE MINUTE MOVIES. Entertaining and scary. Music is by the band Renaldo and the Loaf.
About the Artist:
Tyler Turkle is an artist engaged in making paintings, sculptures, films and videos. He studied art and photography while obtaining a degree in History from Mount Union College (1970) and furthered his studies in cinematography at Kent State University (1973-74) where he worked with the acclaimed American filmmaker Richard Myers.
While at Kent State, Turkle was exposed to the avant garde/experimental films and filmmakers of the day – Myers, Bruce Conner, Stan Brakhage, Mike and George Kuchar, Jonas Mekas, Gunvor Nelson, Lenny Lipton, Ed Emshwiller, among others. Many of those filmmakers were also producing artwork in other media and Turkle began to make films within the framework of his other art projects. The idea was that films are products of the critical, artistic process just like paintings and sculpture in that they are all projects of an independent and highly personal enterprise. Turkle's main interest, then and now, is the short documentary film and video, mostly constructed around on-camera interviews. His interest in the moving image corresponds to his interest in the still image as both play back and forth across the fields of painting and sculpture. Over the last forty years, his films and videos have explored subjects as far ranging as kids playing with yo-yo's to the death of a friend, all of which are based on the working premise of one idea, one artist, working mainly alone and out of the mainstream.
Turkle's films and videos have been shown with his paintings and sculptures in museums and galleries throughout the United States and Europe including the San Francisco Museum of Art, Herbert F. Johnson Museum – Cornell University, Modern Art Museum of Fort Worth, and the New Orleans Museum of Art. Many of the films and videos have also been shown in film festivals including the New York Independent Filmmakers Exposition, Bellevue(WA) Film Festival, Athens International Film Festival, Oxford Film Festival, Penn State Film Festival, Rooseum, Malmo, Sweden and the Sherwood Oaks (CA) Experimental Film Festival.
A local filmmaker and his daughter go to New Orleans and return with a charitable photo show
July 22, 2007 | By Mark Hinson, Democrat Senior Writer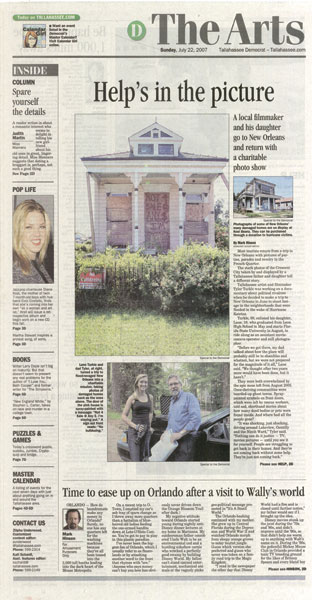 Most tourists return from a trip to New Orleans with pictures of parties, parades and revelry in the French Quarter.
The stark photos of the Crescent City taken by and displayed by Tallahassee father and daughter tell a different story.
Tallahassee artist and filmmaker Tyler Turkle was working on a documentary about political rivalries when he decided to make a trip to New Orleans in June to shoot footage in the neighborhoods that were flooded in the wake of Hurricane Katrina.
Turkle, 60, enlisted his daughter, Lane 18, who graduated from Leon High School in May and starts Florida State University in August, to ride along as an assistant movie-camera operator and still photographer.